08 Feb

2021 | CHRISTMAS IN JAÉN (ANDALUSIA, SPAIN)

After a year without being able to go because of the pandemic, this Christmas I have returned to my city, Jaén.

Although it is a city (and a province) little known by tourism in general, it is really one of my best sources of inspiration: due to its geographical location, Jaén has had a great strategic importance, having found in its urban nucleus several of the oldest human settlements in Spain and Europe (as confirmed by the discovery of the Neolithic site of Marroquíes Bajos, in the north of the city, dating from approximately 2500 years before Christ. Jaén later became a Carthaginian camp, before the arrival of the Romans).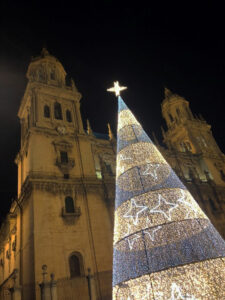 In this way, a variety of people, cultures and races have lived in Jaén, being a city of great importance in the history of the Iberians, Romans, Visigoths, Al-Andalus and the Kingdom of Castile. In addition, we must not forget the Jewish footprint in the city since the Jews were in Jaén since the 7th century, as a minority, for almost seven centuries. In the 14th century there were an estimated 1,500 Jews in Jaén, until they were expelled by the court of the Inquisition in 1483.
Thus, not only has it witnessed crucial battles in the history of Spain (such as the Navas de Tolosa, against the Muslims or the Bailén battle, against the French) but Jaén, was also a fundamental square for the final capture of Granada by the Catholic kings on January 2, 1492.
Although today the importance of Jaén is much less than in the past, its historical legacy remains and can be perceived when walking both through the capital and through many towns in the province (monuments and towns in the province are UNESCO world heritage sites).
Today, with almost 70 million olive trees, Jaén is the world capital of olive oil, being one of the main producers of an oil of exceptional quality. In addition, it is one of the largest Spanish provinces in Spain and has great unrivaled natural spaces such as the Sierra de Cazorla, Segura y Las Villas, Sierra Mágina, Sierra de Despeñaperros and Sierra Morena, all adorned, as in many places in Andalusia, with white villages that make it a unique tourist destination.
For all these reasons, walking through Jaén this Christmas, through its historic center, through its cathedral, Town Hall, Provincial Council, through the Plaza del Pósito or Calle Carrera, has been a source of inspiration for my drawings.
I hope I don't have to wait another year to enjoy it again.